| | |
| --- | --- |
| | Foam Roofing |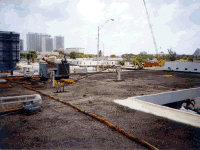 Foam Roofing, Waterproofing and Insulation
contractors and consulting companies specializing in Spray Polyurethane Foam and Polyurea coatings systems. We provide the best quality materials and workmanship, with unsurpassed service, while saving you money through energy efficiency. Foam roofing can Pay For Itself in less than 5 years by reducing energy costs. A "green" roof is a foam roof.
| | |
| --- | --- |
| | Spray Foam |
Sprayed polyurethane foam roofing is the most economical and environmentally friendly roofing system available in today's marketplace. These systems are custom designed for your buildings by geographical location and climatic conditions. SPF systems install quickly, cleanly, and quietly, with little or no interruption of your daily operations, and can produce energy savings of 30% annually or greater.
We also provide emergency mobilization during hurricanes and other natural disasters, serving the entire Gulf Coast Region as well as the Atlantic Coast. Our emergency dry-in teams are able to temporarily repair your buildings at the rate of 10,000 square feet per crew per day and more, by utilizing the SPF roofing systems.
| | |
| --- | --- |
| | Roofing Systems |
Hi-Tech Roofing Systems

Spray polyurethane foam & coatings
Waterproofing for metal roof
Waterproofing for metal buildings
Cold storage and freezer Insulation
Consulting and project management

Conventional Roofing Systems

Hot tar/built up
Modified bitumen
Shingles (all types)
Custom tile (all types)
Cold process coatings